Juha Ketoniemi has started as a port engineer at the port of Naantali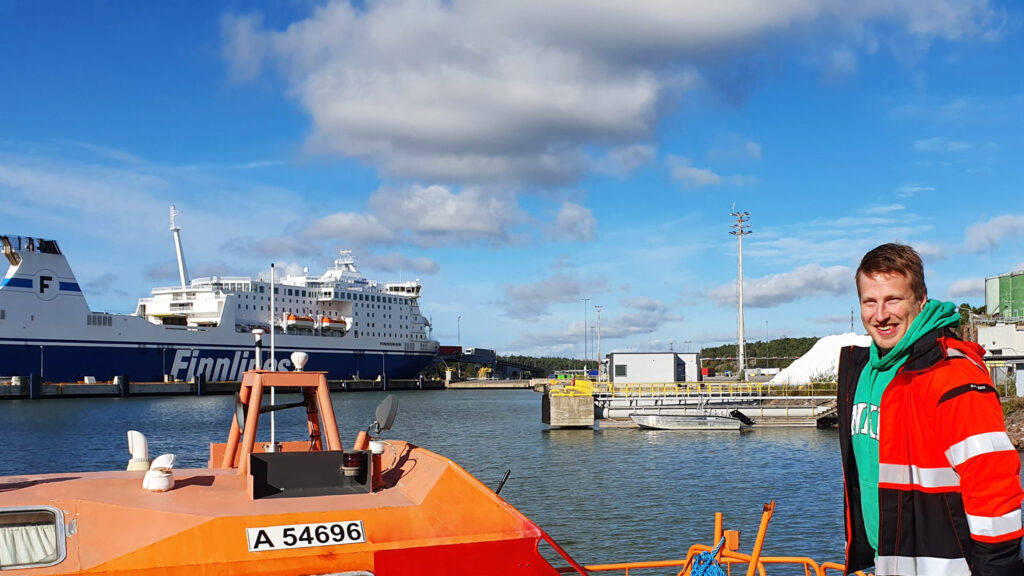 Naantalin sataman satamainsinööri Juha Ketoniemi seuraa Finnswanin lastausta 14.9.2020.
Text and photos: Tarja Siekkinen
Juha Ketoniemi has started as a port engineer at the port of Naantali
We are happy to inform Mr. Juha Ketoniemi has joint us as a port engineer.
Before starting this position at Port of Naantali, Juha has worked several years in companies such as NCC, SRV and Yara Suomi in Uusikaupunki. He has got his interest for construction since his school time when he started to work in his dad`s construction company.
Juha has worked earlier also as a construction consult and as a site manager in construction. In the Yara Finland, he was responsible for construction works working as a construction project manager in the industry building.
Especially different construction projects have always been part of his tasks. He has graduated as a construction engineer. As a brand new position as port engineer, he will be responsible for several construction works and projects at the Port of Naantali.
After 15 years away, he moved back to Laitila, South West Finland. He is now living in a brand new and self built house with his kids and a charming dog. He has started to work in construction branch since school time and later worked in his dad`s construction company.
As a hobby, he pointed out, he is really keen on several sport activities like cycling, snowboarding and different kinds of ball games. Building an own house can be also seen as one rewarding hobby, but now he is enjoying this pretty soon ending project.
– A port is never ready in the point of view of ports infrastructure. There will be always some nice projects to develop ports infrastructure further and other important port development projects to ensure modern and well working port to our customers and partners, says Juha.
He is looking forward to start a co-operation and networking with port related people here in Naantali.
We want to welcome Juha very warmly to be part of our port team.
You can reach Juha direct by mobile phone +358 500 221 637 or by mail to [email protected]