Interview with Jussi Lehtonen, Harbour Master at Port of Naantali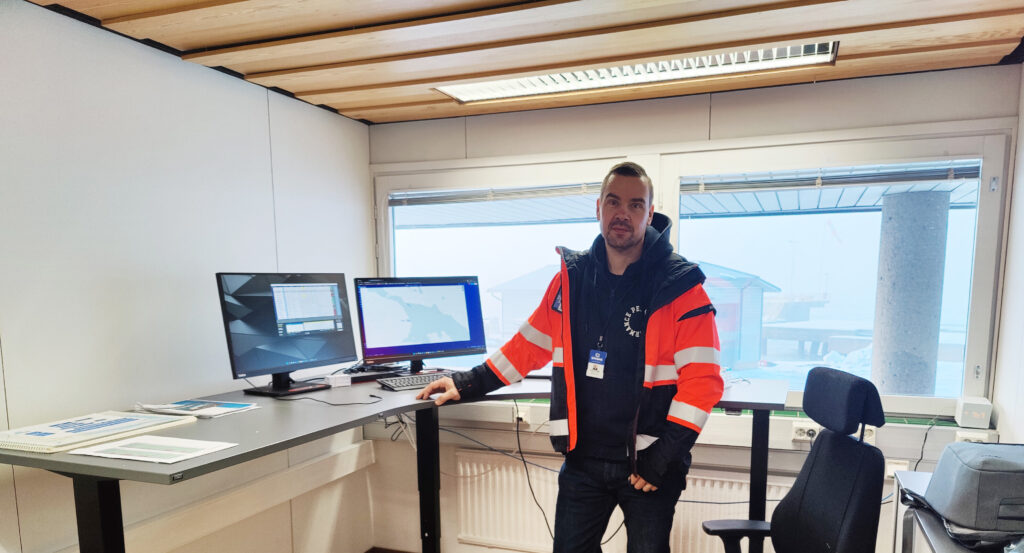 Get to know the team at the Port of Naantali: Harbour Master Jussi Lehtonen
Driving around with red VW Beetle in the summer, Jussi Lehtonen enjoys cooking and likes technical things. Jussi was born and spent his early childhood in Orivesi and moved with his family to Southwest Finland at the time he started school. Jussi is 44 years old and graduated as a Bachelor of Engineering in Industrial Management (Satakunta University of Applied Sciences SAMK) in 2007. He is married with children aged 7, 9 and 16. The daily life in a family with children is fast-paced and the leisure time is filled with pleasant activities together.
Now Jussi has started work in a new position as Harbour Master in the Port of Naantali.
Jussi runs for fitness at leisure, in the wintertime on a treadmill at home. He has completed several half-marathons (21.1 km) in different parts of Finland, and he plans to continue doing so: not too seriously but mainly to keep up his fitness. A new planned hobby is boating with the family. He has already purchased the boat.
Jussi says that hot and spicy foods are his favourite, and he also cooks often himself. One of his specialities is chicken wings with a fiery twist, and in the summer he prepares other tasty treats in the grill.
You had a long career at the Yara plant (industrial port, over 20 years) before coming to the Port of Naantali. What is the most rewarding aspect for you in port operations?
I like to work with other people, and the Port has many stakeholders, so I will get to know new people. The Port is a great environment to work in, and it is rewarding to ensure smooth operating.
How would you describe yourself as a colleague? What is your working background?
I am calm and helpful by nature, and I have always got along with everyone without major disagreements. I don't always agree with everybody, but we get along and co-operation works fine.
My previous profession is vehicle mechanic, and after completing my military service I got a job at the automotive plant in Uusikaupunki in production of Porsche cars and worked there for a few years. Then I transferred to the Yara plant where I worked in several positions, in production planning, supervisory positions in logistics and the port.
How did it feel to transfer from a big organisation to a smaller organisation i.e. the Port of Naantali?
Small and big organisations both have their plusses. I have previously worked in big companies, so I'm now eager to try out a smaller organisation. In a small organisation the operating is more flexible, and decisions, plans and implementation can be done over a shorter period of time.
What are your strengths?
I'm productive and try to place tasks in order of priority. Over-planning does not always change the outcome but in my opinion it takes up time unnecessarily, so a good result can often also be reached through a shorter route. I think I can figure out the big picture quickly and am able to act in changing circumstances.
What do you dream about?
My wife asked me the other night do you have to have a big dream. You can thus conclude that I may not have any big dreams, but we have been joking between ourselves that we could live I some warm country when we are retired.
Your greatest passion?
I like all kinds of technology, such as information technology and the maintenance of our red summer car. At home I have a 3D printer that I use to make various interesting items.
Your biggest vice?
Candy, chocolate and other sweets.
Your sources of joy?
Doing things with my children and the downhill skiing trips of the whole family, spending time at the summer cottage, and travelling.
What secret do you want to reveal to the readers of our blog?
If you come across a guy looking like me on the street and he doesn't greet you, you have probably bumped into my identical twin brother.
How has the work started for you here in the Port of Naantali?
I was received very well in the Port, and I got involved in the work right away, met new colleagues and customers and some members of the Port of Naantali's large network of stakeholders. I am eagerly waiting to network with everyone.
We wish Jussi warmly welcome to the Port of Naantali's team.
You can reach Jussi by telephone +358 50 4383 563 or e-mail [email protected]
Interview: Tarja Siekkinen