Veteran port employee Jussi knows how drastically information technology has changed working with vessels – based on over 40 years of experience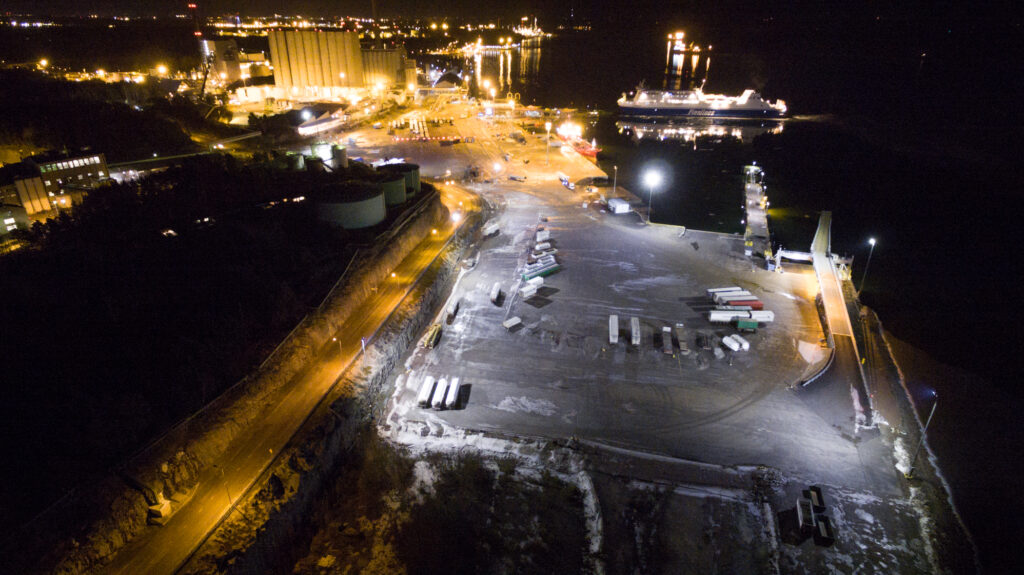 Image: LED lighting for the field of the Port of Naantali
Get to know the team at the Port of Naantali: Port Controller Juhani Tamminen
The first staff member to be introduced is Juhani (Jussi) Tamminen, a very experienced Port Controller who has worked for the Port of Naantali since 1979.
How did you end up working for the Port of Naantali?
"In April 1979, I saw a job advertisement for a Port Controller in Turun Sanomat and thought that it sounded like an interesting job. I had worked at sea before, so I was interested in a workplace that had something to do with the sea, and in the end I was chosen as a Port Controller for the Port of Naantali out of 150 applicants. I was also the youngest applicant and maybe also the cheapest. Since then, I have truly enjoyed working here. Every day is different and the work challenges me in a positive way and just enough so that I have not even thought about working elsewhere. In spring, I will have spent 41 years in this job, and I still enjoy the work."
What is your typical day at work like?
"A Port Controller's day at work always starts in the control centre with co-workers, where we check the vessel traffic´s list and the tasks related to port services. Usually, the previous shift has already made coffee, and it's also nice to chat about other work-related things over coffee. We will also hear of any special tasks or other important service requests by customers at this time. Every shift is different and my co-workers are very nice, which is what makes this job so fun and interesting.
A Port Controller's job duties include mooring and unmooring vessels, giving water to vessels, and so on.
The work also involves port development projects. In addition to my normal work as a Port Controller, I have also been part of designing and developing the port area's gate systems. All of the port's access gates can now be opened remotely, i.e. every gate has its own mobile number that a Port Controller can call to open the gate for customers. This has really helped streamline the port's traffic arrangements as well as operations at the port. Sometimes, I have also needed to climb up the light masts in the field area, which would probably be quite scary for someone with a fear of heights," says Juhani. Last year, we changed the light masts' light bulbs to energy-efficient LED light bulbs, which provide lighting that is much more effective and user-friendly for those working in the field areas. This is one example of the actions we take to protect the environment and reduce the port's energy consumption. By switching to LED lighting, we were able to reduce the energy consumption by 35%.
How has your work as a Port Controller changed?
In the first few years of me working at the port, Port Controllers would take pilots by boat to every vessel at Rajakari, and no vessel was exempt. The port pilot boarded the vessel and took over the responsibility of piloting the vessel to the port. The pilot is the person who steers the vessel into and out of the port. Back then we communicated using VHF radio, which is still used today as one of the communication tools for vessel traffic and port control.
In the early 1990s, computers arrived in the port office, although the first computers were only for the office staff. We got them later. Information technology has truly developed in leaps and bounds over the years, and now we can do things like monitoring in real time how and from where vessels are approaching the port (AIS), which allows us to better prepare for the vessel's schedule."
Last year, we also started using a new mobile app, which can be used to report anomalies and record anomalies with pictures.
What do you do in your free time?
"I like to travel with my immediate family and my grandchildren. In recent years, our favourite destination has been Thailand – the pleasant climate makes you want to go back again and again. Since I was little, I have been interested in all kinds of technical things. I have pursued these interests in my free time by designing a bit of this and that. I have also created various video productions. My most recent technical design project went so well that I was granted a patent for it. There is always something new and interesting to think about, either here at the Port of Naantali or in my free time."